Natalie's Marathon (April 2019)
Congratulations and thanks to Natalie Shoham, who ran the Brighton Marathon on Saturday 13 April 2019.  Natalie finished in the amazing time of 3 hours, 55 minutes and 43 seconds and has raised over £400 in support of the Trust.  This continues a family tradition, as Natalie's brother Luke ran the Great North Run in October 2008 on behalf of the Trust.
Christmas Sale (December 2018)
Thank you to everyone who supported this year's Christmas coffee morning and sale at Crofton on Saturday 8th December.  In our first year without Clare Taylor's wreaths, the event still raised over £1,800, thanks to Debbie's decorations and a mouth-watering array of condiments, pickles, cakes, biscuits and other goodies.  We are also very grateful for some extremely generous donations.
Christmas Sale (December 2017)
Saturday 9th December was the date for the 2017 Christmas Sale. Clare Taylor's team surpassed themselves this year, making 60 wreaths in some of the coldest conditions on record. Thanks to the team and everyone else involved on the day the event raised £3,600. Over the last 11 years, Clare and her team have made close on 500 wreaths and directly raised £12,500. They have played a key role in our Christmas sales over this period generating over £25,000 for the Trust.
Clare is now taking a well earned retirement, and we would like to give her our very special thanks for her massive contribution.
Marathon Month (April 2017)
April has been a Marathon month for the Trust.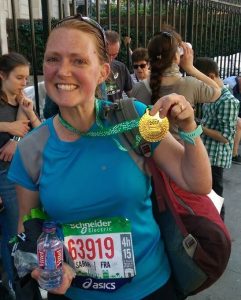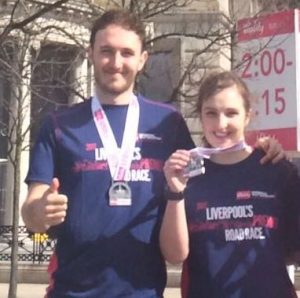 On 2 April, Ben's cousins Ellie and Owen ran the Liverpool half marathon in 2 hours 55 minutes and 2 hours 6 minutes respectively, raising over £700 for the Trust.  And on 9 April, Ben's cousin Sarah completed the Paris marathon in 4 hours 36 minutes raising over £1,500 for the Trust.  Congratulations and thanks to you all!
Christmas Sale (December 2016)
Clare Taylor's Christmas wreaths were as popular as ever this year, with her and her team making and selling 54 in support of this year's Christmas sale on 10 December at Crofton.  The event raised  £3,000, and once again we are hugely grateful to Clare, her helpers and everyone who supported the event to help make it such a success.
Lloyd's Charity Awards (December 2016)
Each year, Lloyd's of London awards grants to charities in recognition of work that members of the insurance community have done in support of their chosen good causes.  This year, out of nearly 300 applications, one of the twenty awards was to recognise Dawn Herbert for the work that she has done in support of the Trust.  And in addition to the award of £2,000 that Dawn collected at a reception on the underwriting floor, her employer Chaucer has awarded a further £1,000.  A great Christmas bonus for the Trust, and our thanks to Dawn, Lloyd's of London and Chaucer.
Ben Nevis (July 2016)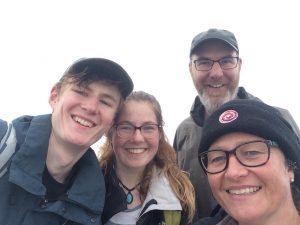 Following on from accompanying Gilly and Phil on training for the South Downs challenge, and walking with them on the last leg, Lucy and Jamie climbed Ben Nevis in July to mark Lucy's 50th birthday, along with Alfie and Megan.  They raised over £600 for the Trust in the process.
Ben's 25th Birthday – South Downs Challenge (April 2016)
It would have been Ben's 25th birthday this year, and it is 10 years since the Trust was set up following his death.  To mark the event, Gilly, Jonathan and Phil walked 25 miles along the South Downs Way from Steyning to Cocking on 24 April in 9 1/2 hours, raising £9,000 for the Trust.  They were helped along by refreshments and moral support at the two stops, and a team who accompanied the weary walkers for the last seven miles to make sure they made it home for a celebratory supper.  Many thanks to everyone who helped with transport, catering and their great company.
Christmas Sale (December 15)
Once again, many thanks to everyone who helped make the Christmas sale on 5 December so successful, raising over £3,000.  Special thanks go to Clare Taylor and her team for making a record 55 wreaths.
Dublin Marathon (October 15)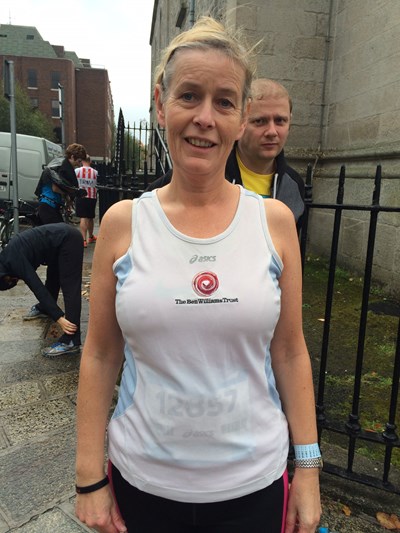 Congratulations to Angela Anderson, who trained secretly for the Dublin marathon on 26 October 2015 and raised over £350 for the Trust.  The following day, Angela told us: "Yesterday was an incredible day for me. In true Irish style the weather was windy and wet which added further challenge to the runners. Having set a target of sub 5 hours, I managed with great encouragement from Tom, to complete in 4 hours 39 minutes and 11 seconds my Personal Best  for marathons! Baby toes a bit sore!"
The Big Ben Walk (Spring 2015)
Andrew Robinson undertook an incredible walk around the UK, raising nearly £1,000 for the Trust along the way.  Said Andrew: "When I was younger, Ben Williams, both someone I looked up to and a friend, died due to arrhythmia.  To raise money to help people like Ben, I'm setting off to walk over 700 miles around the UK over the course of several months, surviving, for the most part, off of the hospitality of others."
During the course of his travels, Andrew came across the best and worst of human nature, receiving acts of kindness both in the form of donations and a place to sleep the night, but also suffering the trauma of being mugged and having his money and phone stolen after being approached in his tent  by three men wielding a knife and screwdriver, Andrew bravely continued with his walk before eventually having to retire with crippling tendonitis.
Edinburgh Marathon (May 15)

Congratulations to Pete Reilly who completed the Edinburgh marathon in 3 hours, 38 minutes and 55 seconds and raised over £750.   Back in 2011, after suffering from a form of heart arrhythmia for several years, Pete underwent surgery to cure it.   Before the run Pete said: "Although my health is now "A O.K", I understand how hard it can be to deal with so I want to continue to raise money and awareness for the trust and the work it does by running the Edinburgh marathon.  Anyone who knows me also knows my enthusiasm for exercise and I shy away from no challenge. This is not only an opportunity to raise money and awareness for the trust but also just me setting myself a challenge and hopefully enjoying the different kind of training."  And after completing the run in a very impressive time, despite a stress fracture, he added: "Even having suffered from supra ventricular tachycardia as a young teenager, I have always loved sports and I couldn't think of a better way to use a love for something than to raise money and awareness for a great cause that is so close to my heart".
Christmas Sale (December 14)
Many thanks to everyone who helped make the Christmas Sale on Saturday 6 December such a success!  Special thanks again are due to Clare Taylor and her team for making a record numbers of wreaths.  The event has raised a record total of over £3,300, every penny of which will go to our supported causes.
Blackdown Round (July 14)

Over 60 friends and family of all ages gathered on Saturday 12 July to walk a variety of routes up to 15 miles over Blackdown to Lurgashall and back through the glorious West Sussex and Surrey countryside.  The weather was kind, the chips at the Noah's Ark good, and aching limbs will have been soothed by the knowledge that over £6,100 was been raised on the day.  We are hugely grateful to everyone who walked on the day, sponsored a walker, or formed part of the magnificent ground crew that ensured that we were all fed and watered so well during the day and evening.
Christmas Sale (December 13)
The annual Christmas Sale took place on 7 December.  Once again, the centre piece of the day was Clare Taylor's festive wreaths, supported by table decorations from Debbie Grimwood, Jane Farley, Emily Rackstraw and Gemma Moore, with Debbie's Indian bazaar providing a taste of the East.  Thanks to them,  all the bakers and makers and those who supported the event, a total of £2,500 was raised, a record for this event.
Sarah Webb's Great South Run (October 2013)
Sarah Webb completed the Great South Run, Europe's leading 10 mile road race in 1 hour 27 minutes and 14 seconds.  Sarah remained undistracted by the sights of Portsmouth's naval heritage, including HMS Victory and the Mary Rose, to finish in the top quarter of the 21,000 runners and raise over £600 for the Trust.
London Edinburgh London Cycling (August 13)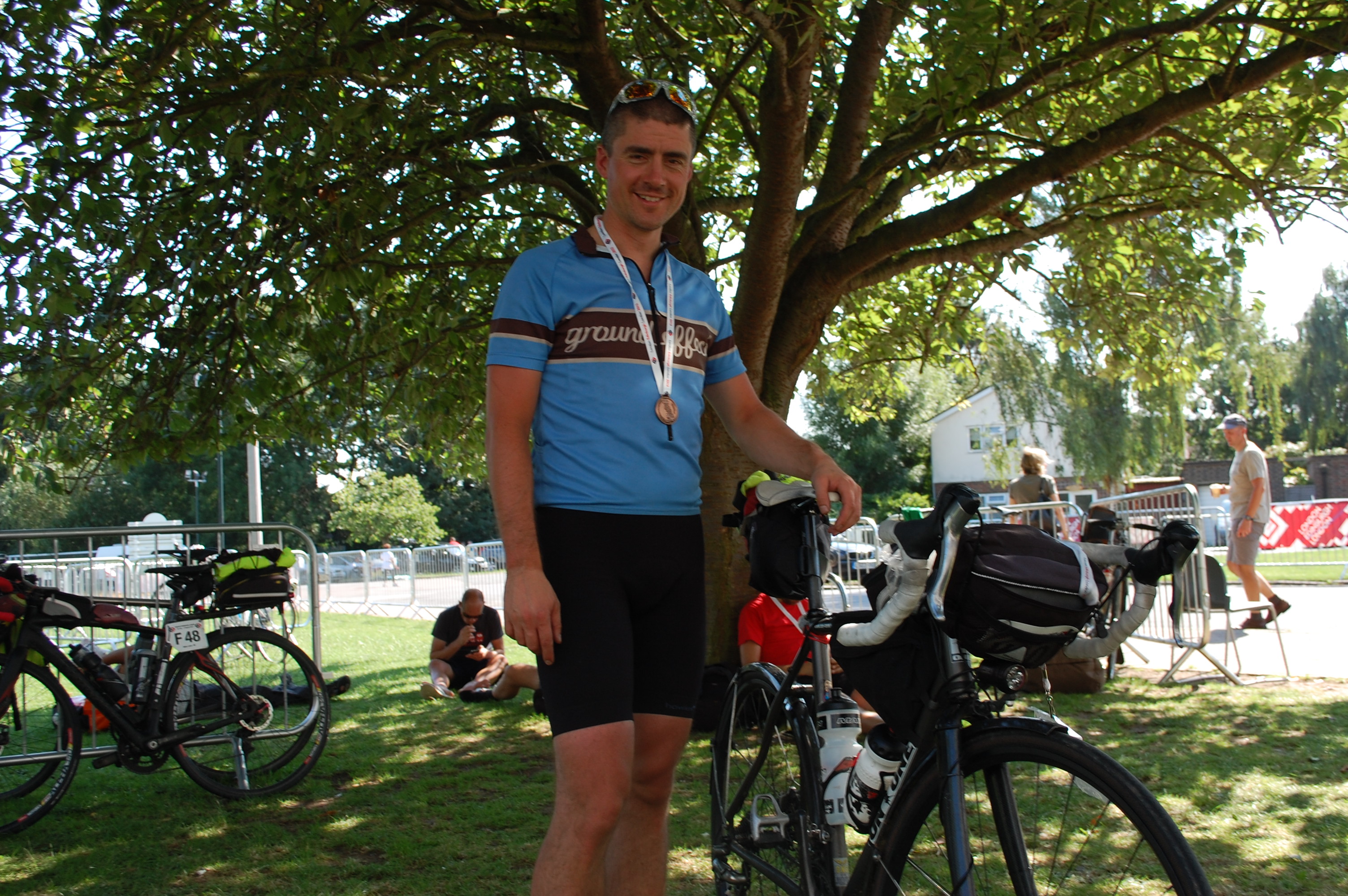 Paul Marshall completed the 1,400km cycle ride from London to Edinburgh and back in early August.  He has written about his experience and you can find at more about his ups and downs by following this link.  It gives a very good flavour of how gruelling the challenge proved to be – definitely not for the fainthearted!
South Harting Book Day (March 13)
The Book Day on Saturday 9 March at Harting Primary School was a great success.  In addition to a book swap for both children and adults, there was a range of activities including local authors reading from their books, poetry and fun story workshops for children.  First prize in the "Tiny Tales" of a family ticket courtesy of London Duck Tours was won by 8 year old Max Paravicini, and the event raised over £600.  Special thanks to Johnny Culley and Harting Primary School, the authors, Will and Caroline Sutton, the extended Prosser family, Emily Rackstraw, London Duck Tours and everyone who helped on the day.
Other 2013 Fundraising
 I'Anson League
To celebrate winning the 2012 I'Anson cricket league, Grayswood Cricket Club hosted a festival match against the President Keith Mayson's XI.  We are honoured to have been chosen to receive £365 that was raised on the day.
Surbiton Hockey Club
We are also privileged to be the recipients of a donation of £300 Surbiton Hockey Club following their annual Charity Day in honour of the late Tony Smith.
Crickhowell School
Our thanks also go to the staff of Crickhowell High School, who raised £100 at a coffee morning organised by Jane Haslegrave.
2012 Fundraising
The congregation of All Saints, Grayswood made a donation of £115 in who lieu of sending Christmas cards.  We are grateful to everybody who supported us.
The Christmas sale and coffee morning was held at Crofton on Saturday 8 December and once again raised over £2,000.  Many thanks to Clare Taylor and all those who helped make the day such a success.
Grayshott Angling Club held its annual open fishing day at Waggoner's Wells.  Attendees were asked to make donations to be disbursed between local charities supporting young people, and we are delighted to have been granted £100 from the funds raised.
Alasdair Mackenzie's men's breakfast group held a BBQ for Ben, and on one of the few sunny mornings in July raised £300 for the Trust.
Each year, Surbiton Hockey Club holds a charity day in honour of the late Tony Smith, who gave Ben wicketkeeping coaching, and died of a heart attack shortly after him.  We are privileged to have received £250 from the funds raised on the day, which had an added poignancy as one of the Club's young lady members, a junior hockey international, had recently died following a cardiac arrest.
Congratulations to Martin (Ben) and Jane Bowe on celebrating their 30th wedding anniversary in June.  In lieu of presents, Ben and Jane asked for donations to the Trust, and we were delighted to be presented with a cheque for £700.
Yorkshire Three Peaks (April 12)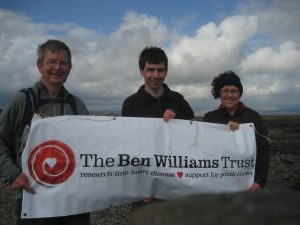 April 24 2012 would have been Ben's 21st birthday.  To mark the day Gilly, Phil and Jonathan completed the Yorkshire Three Peaks challenge of 5,250 feet of ascent over 24 miles, raising over £10,000 for the Trust (click here for the story and pictures).  By sponsoring them on the Yorkshire Three Peaks Challenge, you have directly contributed to the development of a service that saves young lives and helps families to understand and work through the many psychological and practical problems that follow a positive diagnosis.
Coffee Morning (December 11)
The 2011 Christmas coffee morning and bring and buy sale took place on Saturday 10 December at Crofton.  In addition to Clare Taylor's festive wreaths, there were other Christmas gifts and decorations for sale, bring and buy cakes, jams and pickles and a second hand book sale.  Thanks to Clare and her helpers particularly and to everybody who helped us raise over £2,000.
Everest Base Camp (October 11)
Thank you to everyone who has supported me as I have fulfilled my dream…it has been a privilege to be able to raise money for such a worthwhile cause along the way.
Blackdown Round (September 11)
Charity Fun Day (July 11)
Great North Swim (June 11)
South Downs Marathon (June 11)
Stage one was successfully completed on 11 June as Jenny ran the South Downs Marathon, billed as "Britain's toughest marathon, in five hours and one minute.  WIth the Three Peaks also successfully behind her, Everest looms on October 14.
Jenny will be using her challenge to raise funds for the Trust – to sponsor this amazing effort visit her Just Giving page.
Coffee Morning (December 10)
The Trust's annual Christmas sales and coffee morning held on Saturday 11 December raised £2,000.  Many thanks to Clare Taylor and her team of helpers and to everyone who contributed gifts to sell, donated raffle prizes, helped on the day or came to the event.
Rosie's Parachute Jump (December 10)
Royal Parks Half Marathon (October 10)
Neil's 62 Mile Challenge (October 10)
Since our last update in May, Neil has completed the remainder of his eight races in aid of the Trust.  He completed his challenge with the Great South Run, Europe's leading 10 mile road race, in 1 hour 8 minutes and 16 seconds, making a total of 7 hours, 17 minutes and 7 seconds for the 62 miles.
Neil said: "I was inspired by my brother to get fit once more after watching him compete in a couple of triathlons last year and so I took up running again.  I set myself this challenge to keep me motivated and to raise funds at the same time.  I chose to support the Ben Williams Trust not only because I work with his mum Gilly but also because it's such a worthwhile cause, and a fitting way to remember that Ben lived life to the full.
After running more than 700 miles in total this year, I am very pleased to have completed my challenge and am delighted to have helped raise so much for such a fantastic cause".  With money still coming in Neil has reached his fundraising target of £850.
Greasewood (October 10)
Our thanks go to our sponsors the Alan Baker Flooring Company and to everyone who helped make the night so enjoyable and raise over £1,900.  Follow this link for Josh Taylor's video of the event.
Memorial Cricket Match (July 10)
Little Lumpy Sportif (May 10)
Neil's 62 Mile Challenge (May 10)
Seaford                             half marathon      (15.8.10)
Dunsfold                                   10k                 (22.8.10)
Great South Run                10 miles            (24.10.10)
London Marathon (April 10)
Brighton Marathon (April 10)
Tom was running as the child of one of his close friend, Elliot Bower (pictured here) is receiving out patient support from Ben's Nurse and has raised nearly £1,300.
For Justin, this was his sixth marathon.  Justin said "having lived in Grayswood for twelve years, I decided to show support to a local charity and learnt of the Ben Williams Trust as the family live in my village."
Coffee Morning (December 09)
Many thanks to Claire and everyone who helped with and attended the event.
Seventies Night Fever (October 09)
The evening was particularly special for the Trust, as the proceeds of £2,700 pushed the overall funds raised by the charity to over a quarter of a million pounds.
Our thanks go to everyone who helped make the night so enjoyable, and to Sue Griffiths Jewellery, the Inn on the Hill and Mandy and John Simpson for the raffle prizes.  Click here for more photos and please send us any you'd like us to include.
Michael Burgess (August 09)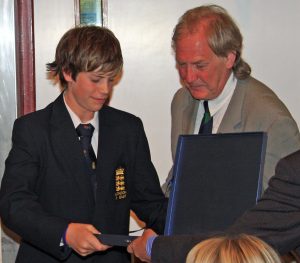 One of the recipients of our Surrey development programme, Michael Burgess, was awarded the Graham Kersey prize for the best 'keeper in the 2009 Bunbury Festival at Charterhouse, together with one of the four David English scholarships which will see him spending a week with the full England squad at Loughborough in 2010.  He has also been selected for the England U15 squad.
Michael is seen here collecting his award from David English.
Memorial Cricket Match (July 09)
Jazz Concert (May 09)
On Tuesday 5 May, 5 May 2009, Luke Shoham and Timian Brierley organised "Concert for Ben" at the Royal Grammar School, Guildford, which raised over £500.  The band, was under the baton (for the most difficult bits) of Barney Lowe, and included members of the Surrey County Youth Jazz Orchestra.  The audience was treated to a wonderful selection of jazz numbers, with enchanting vocals provided by Laura McDonald.  Thanks to all who contributed to such an enjoyable and successful evening.
Book Swap (March 09)
Lucy Prosser's book swap on Saturday 21 March was a great success, raising over £320 for the Trust.  Many thanks to Lucy and everyone who supported the event.  If you would like to organise something similar, please let us know.
Hampshire Wicket Keeping Programme (March 09)
The Trust has agreed to fund a programme which aims to standardise the approach to wicketkeeping development across Hampshire, and provide specialist coaching for up to forty young keepers.  The Hampshire Cricket Board proposal is spearheaded by Hampshire's specialist wicketkeeping coach Bobby Parks and covers both District and County levels across all age groups.  Initially Bobby will work with the head coaches from each District and the County squads, and he will then visit each District and County squad in turn to run wicketkeeping clinics directly with the players involved.  There are further details on our cricket page.
Coffee Morning (December 08)
Burdett Trust for Nursing (November 08)
A major contribution to the funding of Ben's Nurse has been received from the Burdett Trust for Nursing.  This is tremendous news as the grant covers almost half of the cost of the post for three years, and offers real security for its establishment and development.  The Burdett Trust for Nursing makes grants to support the nursing contribution to healthcare, and aims to encourage nurses and other healthcare professionals in a wide range of innovative projects.
Kilimanjaro (October 08)
Jig for Victory (October 08)
Luke's Great North Run (October 08)
Jon Batty becomes a Trust Patron (September 08)
Music for a Summer's Evening (August 08)
The programme, which had been specially chosen by the performers, included music by Mozart, Bellini, Donizetti, Lehar, Gershwin, Kern, Porter, Mancini and Sondheim.
The evening raised over £3,800, and we would like to give our thanks to Mike and Sarah for welcoming us into their home, to the performers and particularly to Jenny, who devised and co-ordinated the concert. (Photo by John Pheasant)
Charity Sale (August 08)
Well done to Heather, Ellena, Callum, Alasdair and Jasmine who raised £40 for the Trust at a Charity Sale on Thursday 14 August.
Sponsored Cycle Ride (August 08)
Ed said "when Ben died it hit everyone at the school very hard. We've been wanting to do something in his memory, and this seemed like a great way to remember him."  The boys have raised over £4,850 – a truly amazing effort.
Sugar Loaf Sponsored Walk (July 08)
Memorial Cricket Match (June 08)
Alastair's Walk (June 08)
In Memory of Tony Smith (May 08)
Each year Surbiton Hockey Club Colts hold a day in memory of hockey and cricket coach Tony Smith, who died of a heart attack shortly after Ben.  This year they have raised a magnificent £200 for the Trust, bring the total donated in memory of Tony to over £1,600.  Our thanks to everyone who has contributed.
Jenny runs for the Trust (Apr 08)
Said Jenny: "I've completed the marathon in one piece!  I enjoyed the first half but the second bit, particularly the last 6 miles, were very tough.  Stratford was lovely so I was able to distract myself looking around at the beautiful houses and scenery.  Thank you to all of you who have sponsored already-you have been very generous…knowing what a good cause I was running for and the generosity of those who have sponsored definitely kept me going."
Alec Stewart works with our Keepers (Mar 08)
Nursing Post Confirmed (Feb 08)
We are thrilled that Catherine Renwick has been appointed to be the Paediatric Cardiac Electrophysiology Nurse Specialist at the Royal Brompton Hospital, London.  Catherine will be in this new post from 1 April, and will provide much needed advice, information and support to children with electrophysiological impairment of their hearts, and to their brothers, sisters and families.  Whilst based at the Brompton, Catherine will provide support to families across the wide geographic area covered by the hospital, visiting homes and liaising with schools, GPs, and other care workers and interested parties.  At any one time, there are about 100 families that can benefit from support.
Coffee Morning (Dec 07)
The coffee morning at Burnside on 8th December has raised over £1,400.  Clare Taylor's wonderful wreaths and decorations sold like hot cakes, and the hot cakes sold like Clare Taylor's wreaths and decorations.  Grateful thanks to Clare and everyone who supported the event, and particularly to those who clambered over fallen trees to get there.
Wicket Keeping Development Programme on Surrey Cricket TV (Nov 07)
Guildford Networkers (Oct 07)
Climb Ben for Ben (Sep 07)
Special thanks are due to Chrissie for organising the whole event which raised a fabulous £4,900 and to the hotel that we stayed in for making Fawlty Towers look like a well run establishment.
Ben Williams Memorial Cricket Match (Jul 07)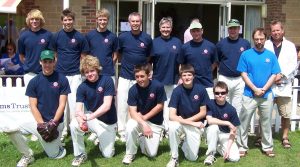 Whilst primarily a social event, the afternoon raised over £1,200 for the Trust.  The Glaser's elderflower cordial was again a popular success, and the raffle included an olive tree donated by Grayswood Architectural Plants, two tickets donated by London RIB Voyages and a champagne hamper donated by Dilla and Humphrey Davis.
In the end of the match presentation, Ben's father Phil Williams thanked everyone involved for contributing to the day's success, and was able to announce that the Trust has now raised over £100,000.
RGS Bands Concert (Jun 07)
The RGS Guildford nominated the Trust as the charity that it was supporting at its Bands Concert on Wednesday 27th June.  The performers were the Big Band, the Concert Band, the Brierley Jazz Ensemble and the Elson Jazz Quintet and it was great to see a number of Ben's friends playing.  On top of being a most enjoyable evening, almost £1,800 was raised for the Trust.  Many thanks to everyone involved.
New Trustees Appointed (Jun 07)
We are delighted to announce the appointment of two new Trustees.
David Newman, Ben's godfather, is a Chartered Physiotherapist specializing in sports related injuries.  He was the physiotherapist for Hampshire Cricket Club from 1985 to 2003, and sat on the England & Wales Cricket Board (ECB) Science and Medicine Advisory Group as Physiotherapy Advisor.  His role with the ECB was extended in 2001 when he was appointed Injury Surveillance Officer, with the main responsibility of monitoring injuries within the First Class game in the UK. David is currently the Honorary Secretary of the Physiotherapists in County Cricket.
Jonathan Williams, Ben's brother, has just completed his school career at the RGS Guildford.  Jonathan has already provided a huge amount of support to the Trust behind the scenes.  He has been and will continue to be our IT guru, and has largely been responsible for the design and build of this website.  One of his early responsibilities will be to teach his parents how to keep the website going during his absence at university!
Just Giving Online Donations (May 07)
The Trust has teamed up with Just Giving to create a secure online donations facility.  Just Giving allows you to make a donation using your debit or credit card, either on a one-off or regular basis.  The facility allows the Trust to recover Gift Aid where this is applicable.  As a supporter of the Trust, you can also set up your own fundraising page – give it a go!
Lake District Sponsored Walk (Apr 07)
Sixty people set out from Caldbeck on a glorious Easter Saturday morning for the sponsored walk to Mungrisdale, covering 26 km and over 1,200m of ascent.  The walk joined the Cumbria Way over High Pike and then on to hot soup and rolls from the Cattle Truck and Gazebo snack bar in Mosedale.  While some enjoyed the food and sunshine, others (well one actually) swam in the refreshing waters of the Caldew.
The ascent of Bowscale Fell and Bannerdale Crags was harder work, but some also included an optional detour up Blencathra before arriving at Blake Hills for tea, cakes and a blister count.
The day ended with supper at Mungrisdale's wonderful new village hall and an opportunity to look at a compilation of everyone's pictures of the walk.  Special thanks are due to Fi and Paul Marshall and Janet and Al Beck for planning and managing the day, and to the legion of helpers who made sure that any calories used up on the walk were rapidly replaced.
Look out for pictures on the Sponsored Walk page.
Fundraising Dinner (Mar 07)
Over 330 people gathered in the OCS stand at the Brit Insurance Oval on Thursday 1stMarch for a fundraising dinner in support of the Trust.  The evening started with a champagne reception in the Ashes Suite, with the main event in England Suite.  Hosted by Jonny Gould and with Mark Nicholas as the guest speaker, the evening's entertainment has raised the staggering sum of over £65,000.  Review the evening's fun on the 2007 Dinner page.
Grayswood Coffee Morning (Nov 06)
A coffee morning was held at Burnside on Friday 17th November.  Thanks to everyone who came and those who provided cakes, a magnificent £338 was raised for the Trust.
The Ben Williams Trust becomes a Registered Charity (Nov 06)
We are delighted that as from 3rd November 2006, the Trust has gained charitable status.  Many thanks to Shaun Parry-Jones, Paul Grimwood and all at Hart Brown Solicitors who have helped us to achieve this in such a short time.
New Electronic Scoreboard at Bradstone Brook (Jul 06)
Ben Williams Memorial Cricket Match (Jul 06)
Two teams of Ben's family and past and present members of Grayswood Cricket Club braved the heat to take part in a competitive but fun game of cricket, whilst others sought the shade and took advantage of the plentiful refreshments that had been donated for the occasion.
Ben's team mates Alastair Gloak and Luke Shoham both made unbeaten 30s, but the match winning innings were from Ben's uncle and cousin Nigel and Richard Sabin, with James Chapman providing some big hitting towards the end.
As well as being a social event for the village, the afternoon was also a fundraising event for the Ben Williams Trust.  With the help of a raffle including a family ticket on the London Duck Tour and a meal for two at the Wheatsheaf Inn, and the auction of a cricket ball signed by the Trust's patron Alec Stewart, over £2,400 was raised.
In the presentation at the end of the game, Ben's father Phil Williams paid tribute to the spirit of the village and cricket club and thanked everyone involved for making the day such a success.