330 guests gathered for The Ben Williams Trust dinner on Thursday 1st March 2007 in the OCS Stand at the Brit Insurance Oval.  The evening started with a champagne reception in the Ashes Suite, before moving upstairs to the England Suite for the dinner and entertainment.  Over £65,000 has been raised and we are hugely grateful to everyone who came and made the event so enjoyable and successful.
Failed actor and ten year veteran presenter of Channel 5 baseball Jonny Gould hosted the evening in his quiet and understated way.  Jonny's premonition of the winner of heads and tails being a young, attractive and blonde female narrowly failed to come true, when Mark Ramprakash and James Benning's otherwise immaculate coin tossing fell foul with Mark's final effort.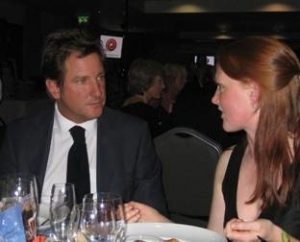 Guest speaker Mark Nicholas' fund of stories kept the guests amused and entertained.  After a fellow professional's word of appreciation to Jonny Gould, and complementing Oval Events on the quality of the butter, he regaled the audience with stories of Bradman, Benaud, Malcolm Marshall, Sylvester Clarke, Shane Warne and many more.
Following a brief explanation of the origins and aims of the Trust by Phil Williams, the entertainment concluded with a lively auction of ten items donated to the Trust.  Jonny Gould's lightness of touch was rivalled only by the courage of those brave enough to take part in the bidding.
Very special thanks are due to Jeremy Willson, Surrey Cricket and the staff and players who attended the evening, Oval Events and Mark Nicholas for their huge support and without whom the evening would not have been possible.
The Trustees would also like to thank the following individuals and organisations who gave freely of their time and money:  Aon, Jofan Bankes, Brit Insurance, British Airways London Eye, Charlie Davies, Chubb Insurance, Cox and Kings, Duchy of Cornwall, European PGA Tour, Fast Track, Johnny Grave, Jason Hoad, London Duck Tours, Lords, Kate Orr, Fi & Paul Marshall, Merlin Elite, David Newman, Shaun Parry-Jones, Mark and Amy Robinson, Royal Garden Hotel, Samsung, Sharrow Bay Hotel, Nick Stanton, Taylor & Roberts, Alec Stewart, Wonderland Memorabilia, XL Insurance.